Today Currie Enterprises occupies a 40,000 square foot complex in Corona California. The company continues to grow in size and product line. They now have more than 50 employees and boast a state-of-the-art manufacturing facility. The Curries design, build, modify, test, sell, and install rearend and drive-train products all under one roof. From humble beginnings and a dream of Frank and Evelyn, Currie has become the most recognized name in specialty rearends and components.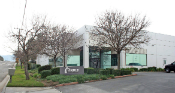 Currie Enterprises is preparing for the future by redesigning and manufacturing the components needed to continue offering complete rearends that exceed the original cores in strength, quality, durability and versatility.
Currie Enterprises has long been known for making the best rearends and components money can buy. We spare no expense in creating rearends for a multitude of applications. We stand behind every rearend that leaves our facility.
So no matter what the application, bring us your problem and Currie Enterprises will create the perfect solution for your needs. For your custom applications give our experienced sales staff a call: (714) 528-6957